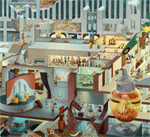 Hilary Harkness
Mother Lode
Photo courtesy of John Morrissey


APPRAISAL SERVICES
Butenhoff Appraisal conducts various types of appraisals depending upon the expressed purpose of the report. All appraisals are written in accordance with the Uniform Standards of Professional Appraisal Practice as set forth by the Appraisal Foundation.

Insurance Scheduling
In order to assure proper coverage, an insurance appraisal provides the insurance company with an itemized schedule of fine art. Each article is identified, catalogued, photographed and assigned a Retail Replacement Value.

Damage / Loss Claim
In the event of a loss (i.e. fire, flood, etc.) or damage to an individual work or collection of fine art, a formal appraisal is necessary in order to determine the depreciated value of a damaged article or the value of the loss forming the settlement for an insurance claim.

Equitable Distribution
In the event of an equitable distribution (i.e. divorce, estate planning, business dissolution), an official appraisal of the articles to be disseminated is extremely useful in order to decide upon the basis for the division of personal property.

Estate
An itemized report is required by the IRS for substantial estates. An Estate Appraisal establishes the tax liability due to the IRS.

Non-Cash Charitable Contribution
The IRS requires formal documentation for the donation of any article of fine art exceeding a Fair Market Value of $5,000. The purpose of the appraisal is to determine the tax credit for the IRS.

Additional Services:
Art Advisory
Artist Representation
Brokering Services
Collection Management
Curatorial Services
Framing
Shipping & Handling
Fee
Our
appraisal fee structure
is determined by the amount of time spent during the examination appointment and projected research.  Travel charges may be incurred if your appraisal is located outside our normal travel area. We have a one-hour minimum-billing rate for the examination appointment. For work to commence, it will be necessary for you to send the working agreement back to us with the required deposit.